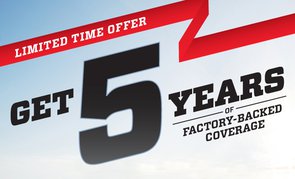 3 + 2 = 5 Years!
Purchase a new 2.5hp to 400hp Mercury outboard between January 1 and March 31, 2020 and get a total of five years of Mercury factory-backed limited coverage! In addition to the standard three-year factory warranty, you will also receive a two-year Mercury Product Protection Gold plan!
Exclusions: All Mercury Racing, Government, donations as well as engines sold for commercial, camp or resort applications, guide & outfitter registrations, CPO, SportJet Pumps and sales/registrations outside the United States or Canada. Also excludes any non-U.S. or Canada resident, or address outside of the U.S. or Canada. Two-stroke (non-DFI) engines are excluded. Units have to be manufactured in current calendar year and four immediately preceding years. Excludes sales from non-authorized dealers. Engines on the Angling or Sponsorship program do not qualify.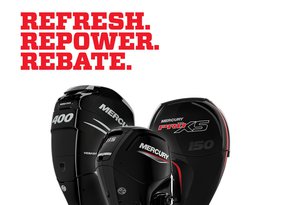 Refresh. Repower. Rebate.
For a limited time, repower your current boat with a new Mercury outboard and get your choice of a rebate or special retail financing!
ELIGIBLE ENGINES 
Rebate - Outboard engines:  9.9 ProKicker, 15 ProKicker, 40 – 150 models (FourStroke, Pro XS and Jet) and 350 & 400 models. Repower sales only, i.e., units sold direct to dealers from Mercury Marine.
Consumer Financing - Outboard engines:  40 – through 400 models (FourStroke, Pro XS and Jet). Includes the new V6 and V8 models 175-300hp!
Offer valid in the United States at participating Mercury Marine authorized dealers and retailers. Sale date of engine must be between January 1, 2020 and March 31, 2020.
Buy any new current or prior year TRACKER aluminum fishing boat before December 31, 2020, and receive up to a 10% discount on Bass Pro Shops and Cabela's branded merchandise and a 10% discount at Bass Pro Shops Signature Restaurants for up to two years!
Introducing the 2020 SUN TRACKER BASS BUGGY® 16 XL! The BASS BUGGY 16 XL is a great value for families who want to make memories together on the water.